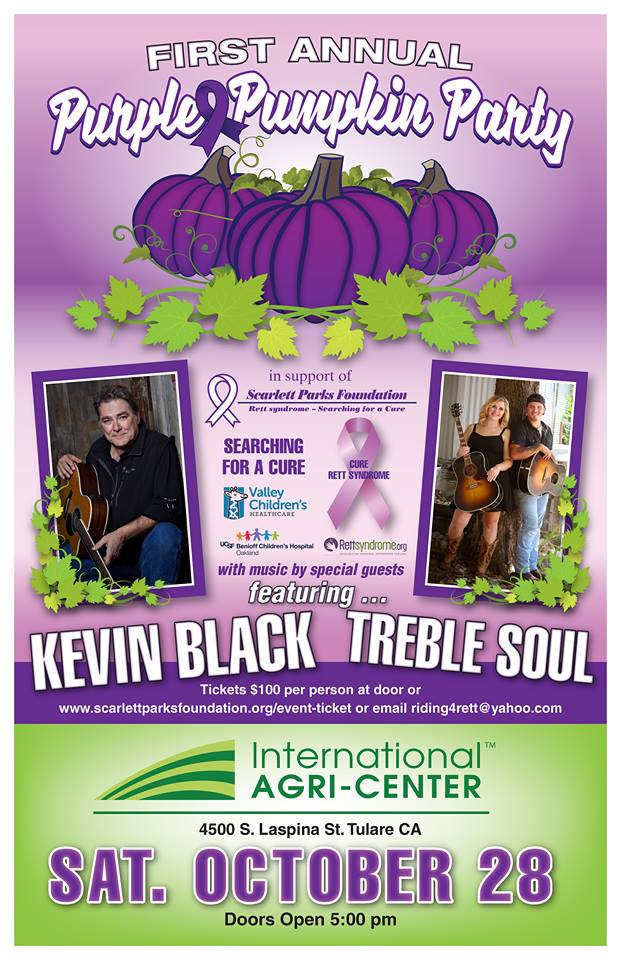 Listen to my conversation about Don's grand daughter Scarlett Parks pictured above along with his daughter. There are a few ways that this organization assists with necessities for others who have a loved one with Rett Syndrome as well as fund research, which is vital in finding a cure. Don Searcy has teamed up with Kevin Black, who is the brother of multi award winning country music artist, Clint Black. Kevin and his wife lost their daughter due to Rett Syndrome. Kevin has worked for many years raising funds for research, we also talk to him. Together Don Searcy and Kevin Black talk about their experience with Rett Syndrome and their upcoming event, the Purple Pumpkin Party.
A evening of dinner, live music and live & silent auctions to raise funds for Rett syndrome a debilitating neurological disorder diagnosed almost exclusively in girls. Price: $100 individual / $175 couple
Performances by Kevin Black brother of country music star Clint Black who lost his 16 year old daughter by Rett Syndrome. Watch video here
Treble Soul are also performing. You may remember them when they were discovered by Darius Rucker during his episode of Undercover Boss.
Each attendee receives a beautiful coffee table book written by Kevin Black & Dave Clements, called Raising A Hand
There are many items autographed by Country recording artists up for auction, so get your tickets and support this event. I had the pleasure of meeting Scarlett Parks and will be MC'ing this upcoming event on October 28th. I'd love for you to join me for a great night of food and music all to benefit the Scarlett Parks Foundation. For ticket info click here