You can host your own drive with your company or some friends. With the Cold weather quickly approaching, Visalia Rescue Mission is always in need of sleeping bags, cold weather gear, toiletries and food. find out how you can help, click here for info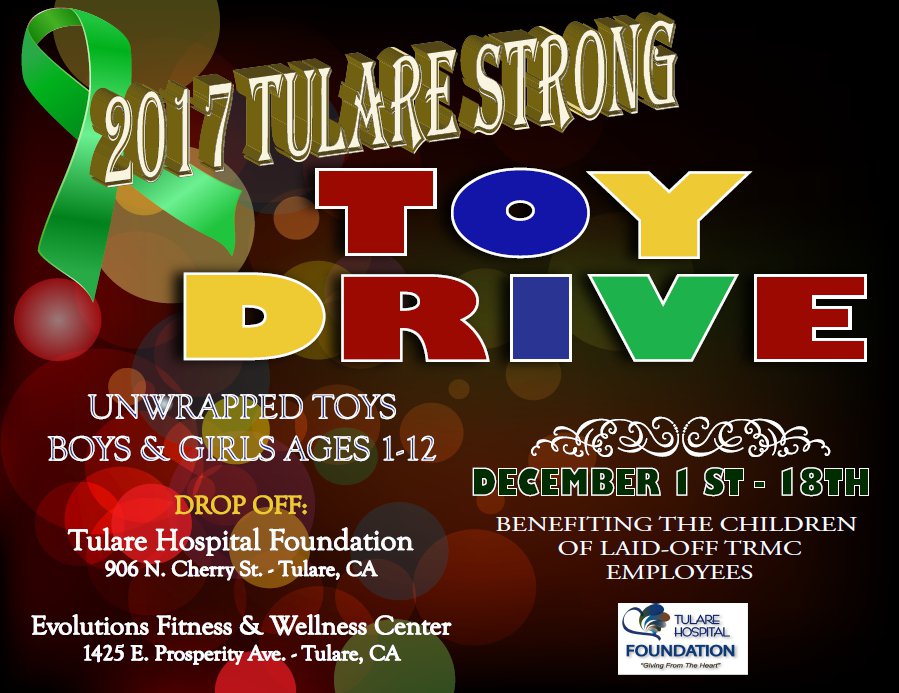 Tulare Hospital Foundation is hosting a Toy Drive to benefit the folks who were laid off when the hospital closed. Drop off details on the flyer above.

Stockings for Seniors
More than 300 homebound senior citizens, who often do not have friends and family visit them during the holidays, receive a stocking filled with donated cold-weather comfort items during the annual Kings/Tulare Area Agency on Aging (K/T AAA) Stockings for Senior Citizens drive. Tulare County businesses, community partners, and residents are invited to collect stocking-stuffer items and help ensure these senior citizens receive a gift during the holidays.
"This holiday event complements Senior Day in the Park, which encourages our seniors to get out and about," said Jamie Sharma, Tulare County Health & Human Services Agency's Manager for Aging Services. "The Stockings for Seniors event focuses on making our home bound and isolated seniors feel special this time of year by spending time to go and visit with them, and by ensuring that they have a gift to open and enjoy."
Community members can help by donating cold-weather comfort items such as slippers, socks, gloves, scarves, beanies, and lap blankets. Volunteers then visit the senior citizens and deliver the stockings filled with gifts. For donation drop-off locations, please call Bonnie Quiroz at (559) 623-2877.
Community members wishing to make financial contributions can do so through Friends of Tulare County by logging on to www.friendsoftularecounty.org, clicking on the "Services and How to Donate" tab, and choosing "Stockings for Seniors"; or by mailing a check to 5957 S. Mooney Blvd., Visalia, CA 93277. Please write "Stockings for Senior Citizens" on the memo line.
This annual event is made possible by collaborative partnerships, including: Kings/Tulare Area Agency on Aging, Tulare County Health & Human Services Agency, Friends of Tulare County, CSET, Visalia Senior Housing Inc., and many others. Click here for more info

Child Welfare Services (CWS) 2017 Children's Toy Drive through December 1st click here for info
There are many ways we can help. These are just a few, but as I get more I will post them in here. Thank you for your kindness and generosity this holiday season. If you hear of another need here in our community, e-mail me rose@kjug.com