The World is NOT Ending
Rest easy people

Gregory Throws A Tantrum
He just wants his Gravy!

KJUG Mornings "Nitty Gritty from Music City" for 9/22/17
NITTY GRITTY FROM MUSIC CITY FOR FRIDAY 9/22/17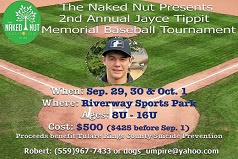 2nd Annual Jayce Tippit Memorial Baseball Tournament
Riverway Sports Park (Saputo Field)
Placement Pros Career Expo
Placement Pros
Video of the week
Free Concert Series Artists Michael Tyler and Waterloo Revival!
Join us on Tuesday September 19th at Hanford Civic Park for a FREE Concert starting at 7pm!