Jugfest 2017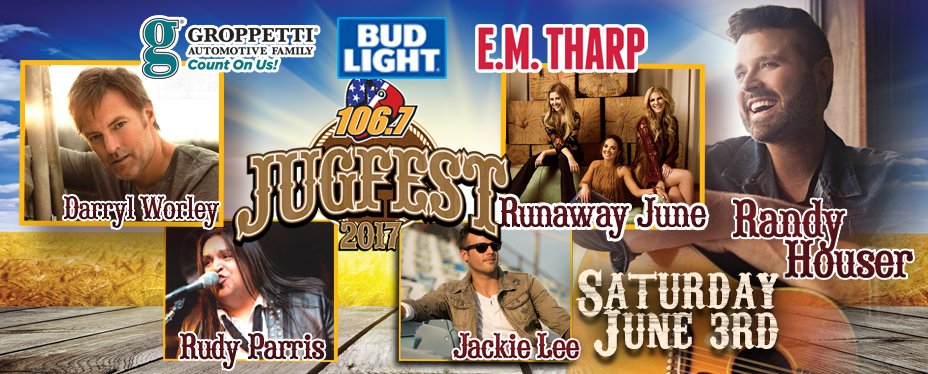 JUGFEST 2017 is SATURDAY JUNE 3RD, on the cool grass at THE GROPPETTI AUTOMOTIVE FESTIVAL GROUNDS at Mooney Grove Park, 27000 S. Mooney Boulevard in Visalia!

GATES OPEN 1PM, SHOWTIME 3PM
Admission for Jugfest is FREE, with Reserve Seating Available for $50 and $30, plus ticket fees.
Jugfest Parking is $10 per vehicle.
Set Times:
3:00 Color Guard
3:15 Jackie Lee
4:10 Rudy Parris
5:00 Runaway June
6:30 Darryl Worley
8:00 Randy Houser
Ticket update:
Gold Section seats are nearly sold out! A few remain, along with Silver Section seating at $30 per ticket. The easiest way to get your ticket is to go to the Visalia Fox Theatre Box Office on Main Street in downtown Visalia to purchase during business hours 10am-4pm Tuesday through Friday.
Click here for the purchase page if you'd like to purchase online and pick up at the Fox Theatre Box Office.

On Saturday for JUGFEST, Visalia Transit has a special weekend extended service to and from JUGFEST. If you'd like to not have to worry about driving, Visalia Transit has you covered.
They are going to run Route 1, on its regular route until 11pm. After their regular service ends at 7pm, they will be running one bus only. It will leave the Transit Center on Oak St in downtown Visalia every hour, on the hour, starting at 7pm, 8pm 9pm & 10pm. Route one starts downtown at Visalia Transit Center and stops along the way at these locations on Mooney Blvd, Recreation Park, COS, Visalia Mall, Sequoia Mall & Government Plaza. After JUGFEST, Visalia Transit will pick up passengers at the added stop (north of 272) on the half hour at 7:30, 8:30p, 9:30p, and the last bus leaves at 10:30pm. It will drop off at the same stops listed above going home.
If you have questions, call the Greenline at 877-404-6473 for information about this extended service.
Sponsored By: