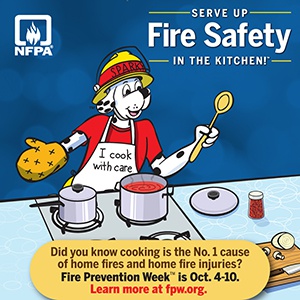 2020 Campaign
This year's FPW campaign, "Serve Up Fire Safety in the Kitchen!TM" works to educate everyone about the simple but important actions they can take to keep themselves, and those around them, safe in the kitchen.
Did you know?
Cooking is the #1 cause of home fires and home fire injuries. Unattended cooking is the leading cause of fires in the kitchen.
I spy cooking safety
Did you know that you can make a difference in the fire safety of every room in your house? Get your spy skills ready! This video teaches children how to spot hazards in and around the kitchen. Get some easy tips to help keep the whole family safe.
Recipe for safety
Before you serve a meal, it's essential to serve up fire safety in the kitchen. There's nothing like spending time in the kitchen cooking a delicious meal for family and friends or an appetizing treat for yourself. But do you know the important steps to take long before anyone takes the first bite?
About Fire Prevention Week
Since 1922, the NFPA has sponsored the public observance of Fire Prevention Week. In 1925, President Calvin Coolidge proclaimed Fire Prevention Week a national observance, making it the longest-running public health observance in our country. During Fire Prevention Week, children, adults, and teachers learn how to stay safe in case of a fire. Firefighters provide lifesaving public education in an effort to drastically decrease casualties caused by fires.
Fire Prevention Week is observed each year during the week of October 9th in commemoration of the Great Chicago Fire, which began on October 8, 1871, and caused devastating damage. This horrific conflagration killed more than 250 people, left 100,000 homeless, destroyed more than 17,400 structures, and burned more than 2,000 acres of land.